Discover How To Build Homerun Hitting Power, Decrease Strikeouts, And Attain Quality-At-Bats,
All While Exploding Your Batting Average!
Learn the formula for you to easily improve your swing in just a matter of weeks.

Dear baseball friend,
Are you currently in a hitting slump?
Would you like to be more of a powerful, reliable, and consistent hitter?
Would you be willing to learn my secret hitting techniques that will help you get there?
I'm talking about improving your performance and the exact steps required to getting you to play better. The key is in choosing your activities and mastering the fundamentals. Activities like hand eye coordination, bat speed, and hitting power.
After years of playing baseball, I know what it takes to succeed, and respond best by working on a player's weaknesses first. My course teaches methods so that you can be a stand-out all star in your league (doesn't matter what level you're playing at right now).
My name is Justin and I am a college ball player at the moment. I work closely with my father who played years of professional baseball. We help train athletes on the side. And, as we train, we discover some pretty amazing things about your strengths and weaknesses.
How do we do that, you ask?
By working hard, going back to the basics, and improving upon the fundamentals. I have put in some pretty amazing tools (I'll describe below) into a new video course of mine. These tools, and activities, in conjunction with my techniques, will drastically help you become a better hitter regardless of what kind of pitch is being thrown.
You see, the problem with players today is that they don't realize what their actual weaknesses are nor do they know how to practice properly.
This Course Helps With That By Showing You Exactly What To Do
Every baseball player needs to train in disciplines. The first discipline is the mechanics (movement) of swinging. The second is the strength and conditioning aspect of the sport. Third, the mental or emotional aspect of preparation, competition, and post competition -- all of which is critical to having consistent success at the plate.
You have two choices. You can keep doing what you're doing, and remain average, or you can take my course, and quickly learn how to become a more powerful hitter.
Now, I know what you're thinking.
And yes it does cost some money up front. Almost 25 bucks. But, I want to make sure you treat this seriously. And making you fork out a little cash will hopefully persuade you to pay closer attention and work a little harder thus improving your overall swing.
And let's be honest...
You'll probably find this more valuable and useful than 99% of the stuff other "trainers" and "coaches" are charging you hundreds of bucks for.
And that's the point.
Go through the entire course. Take your time with it. Take notes, and practice all the principles you learn. Then test this out in your games.
You see, in this course, I specialize in and teach every aspect of swinging the bat effectively. As you know, hitting requires both physical and mental strength. As a result, thousands of players end up struggling with one or the other. Most of them due to their lack of mental skills to perform under that kinda pressure.
Many past players that have worked with me or have used my material, however, have said that they've found my lessons to have a profound effect on the mental side of hitting. Effects that have drastically improved their hitting average.
That's because I believe that to become a successful hitter, the hitter must overcome physical and mental obstacles, before even stepping to the plate.
This is a big reason as to why players and coaches and parents choose my unique hitting program over anything else. It's because I know how to work with hitters. Everything taught will give you an immediate competitive edge. I show you how to deal, learn, and adjust to certain circumstances which ultimately determine your success on the field.
Chances are, you'll be blown away by how well you're swingin' as I've used the exact fundamentals we discuss in my course as my "secret weapon" for the past 15 years and it's NEVER FAILED ME. Yeah, I have slumps. We all do. Whenever I get into a little funk though, I go back to the good ol' principles taught in Dynamite Hitting - simply because they work.
But don't just take my word for it.
Watch the short video below where Jenny talks about her son's success with our program.
We've been able to help thousands of players over the years, and we're even endorsed by some professional players: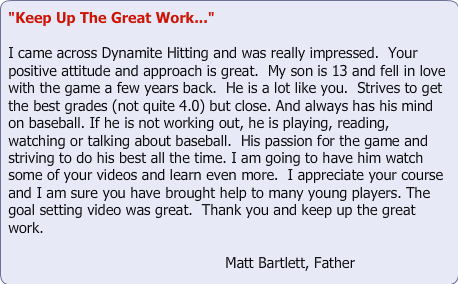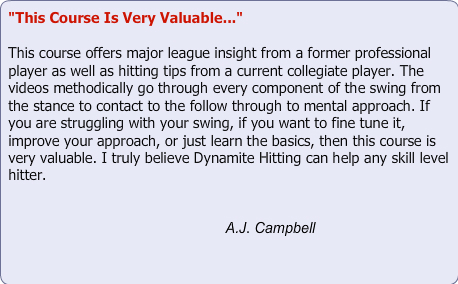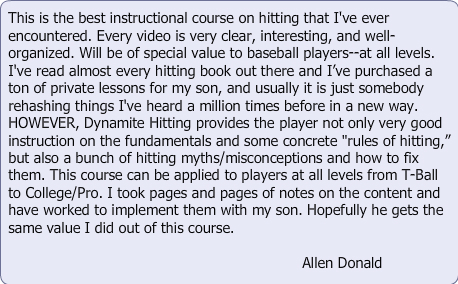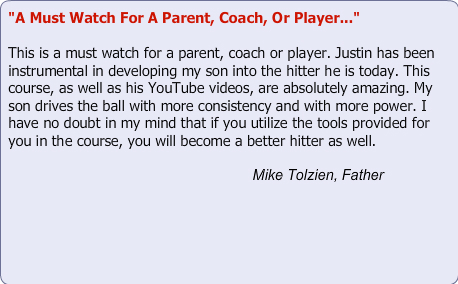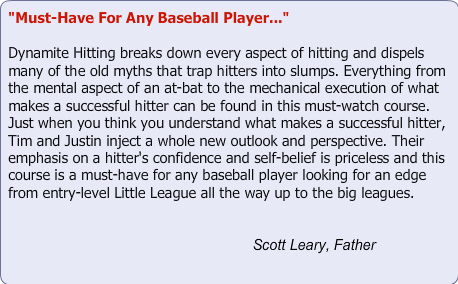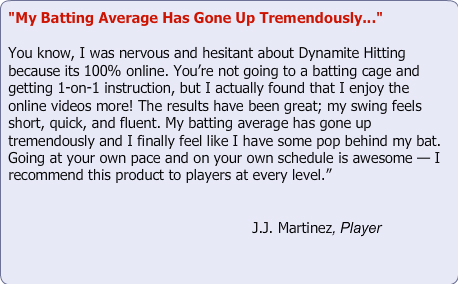 The Dynamite Hitting course focuses on improving swing performance beyond transitional lessons. In fact, the hitting drills and teachings combined will help give you these benefits:
• Improved functional movements
• Increased hip speed
• Increased lower body torque
• Increased breathing while performing
• Improved timing
• Improved flexibility
• Improved visual acuity
And much more!
And if you order today, at this moment in time, I'll even throw in a FREE ebook on "How To Get Recruited" which will help you advance to the next level.
Look, you have nothing to lose by giving Dynamite Hitting a shot. It's affordable and is endorsed by hundreds of people, even professional players. Heck, you'll also have 30 days to try it out and if you don't like it, just keep the course and I'll refund every penny. How's that for a guarantee? 30 days. Full money back guarantee. No questions asked.
You have nothing stopping you now except yourself. Don't hesitate any longer. Get this program now before it's too late. Trust me, you'll be glad you did, as this is a real and proven investment.
Click below to gain instant access and quickly learn how to create the perfect swing!
Sincerely,
Justin Willman
P.S.
Did I mention that you have a full 30 days with the course risk free? If it isn't for you, just let me know, and I'll return all your money back to you. Get this program today. You have nothing to lose and everything to gain!